Timespan
2016: October 19 - November 9th
Features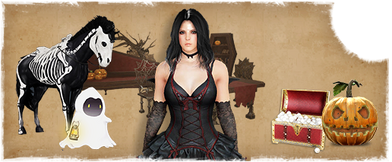 Bloody Suit
Drifty Ghosphy (Pet)
Skeletal Horse Equipment
Halloween Interior Set
Free Jack-O-Lantern Mask
375 Pearls
A Bloodmoon rises, cities are decorated, the music in large towns changes after 10pm. Special lighting effects are only visible at High or above graphics settings.
Halloween effects for Awakening Skills, Halloween Costumes and Pets have been added. Special 'Bat' effect will be seen when using Awakening skills that consume Black Spirit's Rage 100% (Excluding Bloody Suit).
Login-Reward: [Event] Halloween Cookie each day for 2 hours playing
Quests
Daily Quest: If player is level 20 or higher Lara in Heidel City starts the Halloween Quest Defeat (monsters in the world drop [Event] Halloween Candy). Lara converts 3 [Event] Halloween Candy into [Event] Halloween Candy Basket
[Event] Halloween Candy Basket and [Event] Halloween Cookie can be arranged in the inventory into a a [-] shape to obtain an [Event] Halloween Gift Box:

Rewards:

Resplendent Alchemy Stone of Destruction
Tungrade Earring
Kzarka's Sealed Weapon Box
Ogre Ring
Basilisk's Belt
Centaur's Belt
Giath's Helmet
Red Nose's Armor
Bheg's Gloves
Muskan's Shoes
Ring of Crescent Guardian
Black Magic Crystal - Harphia
Magic Crystal of Infinity - Experience
Sicil's Necklace
Blue Whale Molar Earring
Necklace of Good Deeds
Tree Spirit Belt
Manos Ruby Necklace
Ring of Cadry Guardian
Black Magic Crystal - Sturdiness
Black Magic Crystal - Armor
Sharp Black Crystal Shard Bundle: 3
Hard Black Crystal Shard Bundle: 3
Witch's Earring
Red Coral Earring
Ancient Guardian's Seal
Mark of Shadow
Bensho's Necklace
Ancient Weapon Core
Sharp Black Crystal Shard
Hard Black Crystal Shard
Cron Stone
Memory Fragment

Single event quests at different locations give event items or parts needed for an item (only one of each can be acquired per account):
| Name | Picture | Source |
| --- | --- | --- |
| [Event] Sweet Cone Hat | | Heidel's workshop manager Ficy asked for your help with the festival prep. Collect beetle wings northwest of Heidel by killing 10 beetle and bring them to Ficy for 1 Cone Hat. |
| [Event] Wolf Nose | | Gray Biants, a Calpheonian priestess in Casta Farm near Olvia, is worried about children wandering around the town late at night during the festival. Remove wolves from the town's surroundings to alleviate Gray Biants' worries. |
| [Event] Devil Horn Headband | | Lylina, a furniture dealer in Calpheon, gives away free devil horn headdresses to people during the festival. Obtain Thief Imp's molar to request more headbands. Thief Imps are only seen at night. |
| Jack-O-Lantern Mask | | Amadeo Alejandro asks you to kill Pumpkin Ghosts for their masks. For 10 such masks you receive 1 undamaged pumpkin. If you have 5 undamaged pumkin he gives you the mask. |
| Scarecrow Mask | | Mercianne Moretti from Moretti Plantation asks you to kill 10 Scarecrow Ghosts for 1 Mask as reward. |
Community content is available under
CC-BY-SA
unless otherwise noted.